ladybisonsports.org is neither affiliated with nor endorsed by the Clearfield Area School District

10-9-13


.
Pictures reprinted from The Progress files with permission

Thanks to Progress Sports Editor Jaclyn Yingling and
her staff for their cooperation.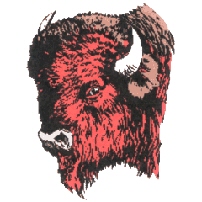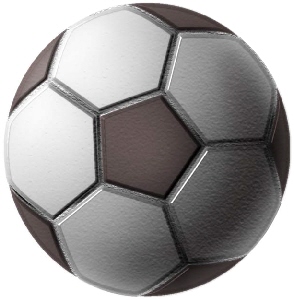 ladybisonsports.org
Soccer - 2013
Back to Home
6-0 Win over Bellefonte, 10-8-13 ~
Back to Home
Progress Photos by Rich Murawski and from the paper's online photo archive.
Purchase 8 x 10 Color Copies HERE .
Right Click on any of these Progress photos and go to"Properties" to retrieve the Progress' photo code for ordering purposes.
In many cases, their code begins with the letters "IMG". Ignore our code (SPP100113) which precedes theirs.


Web Article ~


Clearfield's Kara Thorp sends a pass as by Bellefonte's Morgan Brooks
during the first half. Thorp notched three assists in the win.

( Photo by Rich Murawski )


Lady Bison striker Carlee Freeburg jumps into the
arms of teammate Brianna Spencer after scoring the
first of her three goals Tuesday evening.

( Photo by Rich Murawski )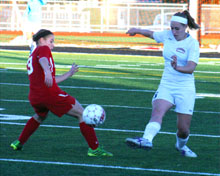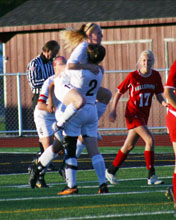 Lady Bison midfielder Tessa Munshower looks to
contain Bellefonte's Ashleigh Turner late in the
first half.

( Photo by Rich Murawski )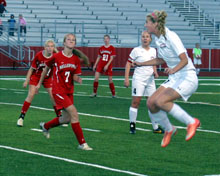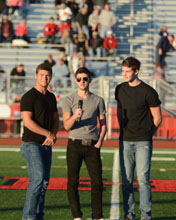 The group Restless Road from TV's "X Factor" was in town yesterday. They performed
at the middle and high schools and later sang the national anthem prior to the Lady
Bison soccer game. From left are Andrew Scholz, Colton Pack and Zach Beeken, whose
mother Jennifer teaches at Clearfield Middle School.

( Photo by Logan Cramer III )