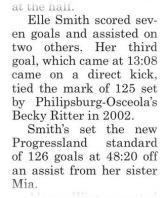 7-13-15



.
Clearfield PA Elks Lodge #540 ,
27th Annual High Country Arts Fair, July 12, 2015
In partnership with ladybisonsports.org . . .
Since 1989 the Clearfield PA Elks Lodge has presented their High Country Arts Fair in cooperation with the
Pennsylvania Department of Environmental Resources, the administrator of S.B. Elliott State Park, Penfield PA.
Because the Fair is held on publicly owned land the proceeds must all go toward supporting
non-profit organizations in our area. The weather this year was as nice as anyone can remember.

Several such organizations do their part in helping the Elks with the Fair each year and about two dozen
are presented a distribution of the proceeds at a dinner held each October at the Clearfield Lodge.
Scroll down the page for a list of the benifiting associations.

Some 150 Craft Vendors and Artists also take part in the Fair and help attract the always large crowds.

Our guests are greeted by and pay their Chicken Dinner money to John Troxell while PER Gus Yeager looks on.
Gus claims that he is barred by lodge rules from handling any of the money - just like at home.
Admission to the grounds, browsing the many vendors and enjoying the entertainment is all free of charge.
In past year's we were all serenaded by Lodge organist Bob Guarino who is no longer
with us but is fondly remembered and sincerely missed.

New last year and back again was the Art exhibit presented by the Susquehanna River Arts Council.
the crowds swarming the grounds; the craft vendors . . . .
Click -
Click -
Click -
Click - Clearfield Elks 2015 High Country Arts Fair . . .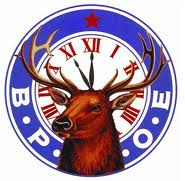 American Cancer Society

American Red Cross - Heartland Chapter

Area Agency on Aging

CAHS Band Boosters

CAHS Swim Team

Clearfield Area United Way

Clearfield Arts Studio Theatre Inc

Clearfield Bison Quarterback Club

Clearfield County Crimestoppers

Clearfield Elks Christmas Committee

Clearfield EMS

Clearfield - Lawrence Twp. Airport

Clearfield Ministerium Food Bank
Clearfield Swimming Pool Association

Curwensville Civic Center

G T Waroquier Scholarship Fund

Joseph & Elizabeth Shaw Public Library

Judd Zimmer Scholarship Fund

Marian House

N. D. Yingling MD Cancer Center

Salvation Army, Clearfield Corps

Society for Handicapped / Disabled Citizens

Special Olympics of Clearfield County

Susquehana Rural Free Clinic

Tagg Team Corporation

Participants - These are some of the area charitable and non-profit organizations that have benefited
from the Clearfield Elks High Country Arts Fair over the years ~
The Clearfield Elks would also like to thank the many local companies
that graciously provide manpower and in-kind donations.
Guests wait patiently in line at the Hot Sausage booth. Like all of the food stands
at the Fair, this booth is staffed by member Elks, their spouses, their kids and
other community minded area residents.
more examples of Elks "caring and sharing" as they prepare and serve their mouth watering treats . . .
Throughout the afternoon, entertainment was provided by Magician Denny Huber, astounding fiddler and banjoist
Megan Mc Garry and dad Chris Mc Garry and by the always popular Moore Brothers . . . .

Megan McGarry Music on facebook
Emergency Care on site is provided by Clearfield E.M.S, Shuttle service by Fullington's Trolley and new this year was the addition of the "Visit Clearfield County" van.

Click -

Click -
Click -
Click -
Click -